Apr 9, 2014
What do you call an over worked, under slept, never stopping woman who has run out of coffee and her fiance continues to pick a new pack up on his way home? If you guessed ALEXIS you are correct!
I have always prided myself on not needing coffee. I wake up before 5am, usually do some sort of workout (not intense just something to wake up), and cook breakfast, pack lunches and still able to watch something on NetFlix. All that is done before any coffee enters my body. However, just because I don't need coffee to function normally, doesn't mean I DON'T WANT IT!!!!!!! I like my routine  and this week it has been all sorts of off. We ran out of coffee on Sunday and Brian has successfully forgotten to pick any up from the store. Now I also blame myself because I should know better and just go myself, but I too forget after working all day.
So what is the solution? I have been stopping at Starbucks on my way to work but it is just not the same. I like Starbucks for my Friday treat (when I bring my own coconut milk) but just their  black coffee is not my favorite. I am a huge fan of Seattle's Best and that is what is in our house all the time… well except for this week obviously.
So along with my week of being completely off starting early, I have not been taking many pictures of all my eats… I do a have a few of my favorites to share with you though.
Before you look through pictures I think you need to check out yesterdays post and the amazingly huge eggs I picked up this weekend… poor chickens.
Ok time for food…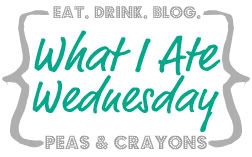 Breakfast: I am so happy that I prepped a fritatta this weekend along with sweet potato hash browns. It has made mornings so much easier. However I do miss my sunny side up eggs.
Snack: Rice cake with Nuttzo peanut free nut butter, blueberries, and goji berries 
Snack: Stoneyfield yogurt topped with homemade granola
All of these eats have been on repeat. I am hoping once coffee makes its way back into my morning routine the rest of my day will be back on track haha.
What have you eaten on repeat this week?
Ciao and missing my Seattle's best,
Alexis