Mar 3, 2014
HAPPY MONDAY!
I hope everyone had a wonderful weekend. I know I did.
Saturday Brian and I started off with a trip to the local farm to pick (literally) our eggs from the chicken coop and pick up some grass fed beef and cage free chickens.
If you are anywhere in the Central Florida  area you have to stop by Lake Meadow and check out their awesome property and farm store. This place is a must for healthy, local, GMO and Antibiotic free meats and veggies.
Here is what we picked up this weekend.
 Whole Chicken-  Chicken Andouille Sausage-  Organic rainbow carrots- organic parsnips-18-  Green eggs picked with my own hands-  Wagyu Beef Burgers-  Nitrate free Bacon- Organic Blueberries
The chicken has already been grilled and ready for consumption this week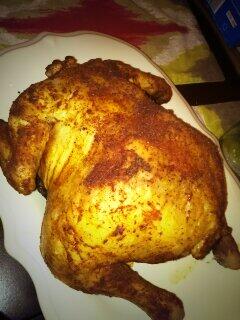 After the trip to the farm and an awesome workout (in which I got a new PR… check the video on IG) Brian and I headed home to get ready for our good friends 30th Birthday. It was appropriately themed Back to the 80′s.
Here is a few photos…
We had so much fun! It was a late night and perhaps a bit to much alcohol was consumed but hey your BFF only turns 30 once right!? It just means normal, clean eating is in full effect this week. I don't feel as bad when I have a splurge night because I know it's once in a blue moon.
OK so to the workout! Today I have a pyramid inspired workout for you. It seems easy when you get started but trust me it starts to burn at the top.
The idea is to start with 5reps work your way up to 15rep and then back down to 5reps. You can essential do this with any set of exercises but here are the ones I am including for today.
Tuck Jumps
Burpees
Squat hops
Break dancer Push ups (or regular)
You do the entire group at each set of reps before moving on.
*Note* If doing the Break dancer push ups you need to make sure you are doing the reps PER SIDE. For example if you are at 5 reps you are actually doing a total of 10 (5 each side) if you choose to do regular push ups just stick with the original number. I mixed and matched because when I got to 15 my arms were already burning and doing 30 was not in the cards at the moment.
So my push ups looked like this…
5 break dancer both sides (10)
10 break dancer both sides (20)
15 regular push ups
10 regular push ups
5 break dancer both sides (10)
If you have any questions on the workout feel free to e-mail me. I hope you enjoy!
Ciao and Pyramid Work,
Alexis